Diversity Student Profiles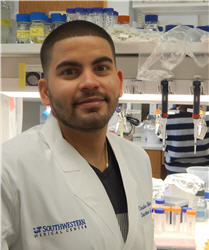 Claudio Morales-Perez
Molecular Biophysics Graduate Program
Mentor: Ryan Hibbs, Ph.D.
Hometown: Bayamon, Puerto Rico
Awards/Fellowships: September 2015-Present – Howard Hughes Medical Institute (HHMI) Gilliam Fellow; May 2015 – Second place oral presentation, UT Southwestern Medical Center, Molecular Biophysics Department Retreat; May 2015 – Best poster presentation, UT Southwestern Medical Center, Neuroscience Department Retreat; July 2014-June 2015 – The Cellular Biophysics of the Neuron training program (NIH-T32NS069562-05); March 2014 – National Science Foundation (NSF) Honorable Mention for Pre-doctoral Fellowship
"I choose UT Southwestern for the variety of research, the collaborative environment, excellent faculty, and excellent graduate programs."
My interest for science began in my childhood. I always wanted to understand how the human body works, mainly because I was born with a congenital heart disease. During middle school, I was fortunate to have an excellent science teacher who motivated me to pursue a career in science. During my first year at the University of Puerto Rico, I had the mindset that I was going to Medical school but the biology program required for every student to get at least 3 credit hours in a research lab. That was when, in my first year, I started working with Dr. Lasalde whose passion for science motivated me to pursue a Ph.D.
The goal of my dissertation is to solve the 3D structure and understand the molecular mechanisms of the human Alph4Beta2 nicotinic acetylcholine receptor. This ligand gated ion channel is essential for proper synapses in the CNS and is implicated with neurodegenerative diseases and disorders. The atomic resolution structure and functional assays will reveal new insights into the gating mechanism, ligand specificity, ion selectivity, and subunit arrangement which will be used as a template to design new therapeutic treatments.
The faculty is very involved in the development of the students. They are very supportive, helpful, and are not afraid to give any feedback.
---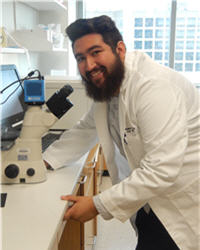 Andres Nevarez
Cancer Biology Graduate Program
Mentor: Gaudenz Danuser, Ph.D.
Hometown: Fresno, CA
Awards/Fellowships: 2015 Ford Predoctoral Fellowship
It all started with my mom. She noticed my interest with the world and did not let the flame go out. We would walk to the library and check out books on insects; when I was younger I wanted to become an entomologist. Both my parents did everything they could to foster my interest in science. In middle and high school, we had science and math fairs at the local university. My parents made sure I had a computer, internet, books, anything I needed to enable my success. In college, they helped me buy a car and pay for books, the rest was funded by loans and a part-time technician job. I am naturally curious and my parents helped me realize what it is I want to do.
"I chose UTSW because of the open, collaborative mindset of the research community. I love the forward thinking. They are not afraid of taking risks on new, harebrained ideas."
In my research we are using advanced computer vision to detect metastatic melanoma. Using simple and accessible experiments, we are developing a workflow that can be used in the clinic to determine a patient's potential for metastasis. Our work will enable clinicians to treat patients strategically, at a resolution that has never been done before.
Everybody is invested in one another and there is a community working to help you along the way. While it is very rigorous, you are well prepared throughout it all. And above all, close collaboration.