2013 Lone Star Rhinology Course
April 26 - 28, 2013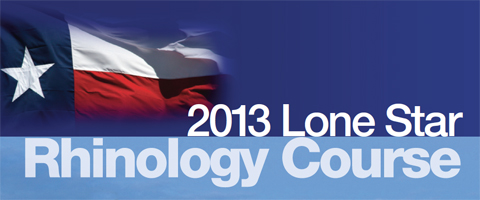 Online Registration

Registration
Registration is confirmed upon receipt of registration fee. We are unable to process any registration without payment. On-site registration will be available; however, we cannot guarantee course materials and meals/refreshments on site to anyone registering after April 26, 2013.

Mail completed registration form to:
UT Southwestern Medical Center
5323 Harry Hines Blvd.
Dallas, Texas 75390-9059
Fax completed registration form to 214-648-4804.
Course Fees
Lecture Only
Physicians

$700
Physicians in Training
$400
Allied Health Professionals
$400
Lecture with Lab
Physicians

$1,500
Physicians in Training
$1,100
Refund Policy
A $100 handling fee will be deducted from cancellation refunds. For a full refund, requests must be received by mail or fax prior to April 1, 2013. A 50 percent refund request must be received by mail or fax prior to April 15, 2013. No refunds will be made thereafter.
Cancellation Policy
The Office of Continuing Medical Education reserves the right to limit registration and cancel courses, no less than one week prior to the course, should circumstances make this necessary.
Location
Lectures:
UT Southwestern Medical Center
T. Boone Pickens Biomedical
Building Auditorium
6001 Forest Park Road
Dallas, Texas 75235
Cadaver Lab:
UT Southwestern Medical Center
Anatomy Laboratory, Room L1.144
South Campus
5323 Harry Hines Blvd.
Dallas, Texas 75390
Parking
Parking is available in the parking garage entered from 6001 Forest Park, located adjacent to the T. Boone Pickens Biomedical Building. The garage entrance is to the right of the front building entrance. The garage elevators will take you to the third floor. Follow the directional signs to the conference room.
Conflict of Interest
It is UT Southwestern's policy that participants in CME activities should be made aware of any affiliation or financial interest that may affect the speaker's presentation(s). Each speaker has completed and signed a conflict of interest statement. The faculty members' relationships will be disclosed in the course syllabus.
Discussion of Off-Label Use
Because this course is meant to educate physicians with what is currently in use and what may be available in the future, there maybe "off-label" use discussed in the presentations. Speakers have been requested to inform the audience when off-label use is being discussed. The registration fees below entitles participants admission to the conference, all course materials, continental breakfasts, refreshment breaks and lunches.
Program Accessibility
We accommodate people with disabilities. Please call 214-648-3138 for more information, or mark the space indicated on the registration form. To ensure accommodation, please register as soon as possible.

UT Southwestern Medical Center is committed to providing programs and activities to all persons regardless of race, color, national origin, religion, sex, age, veteran status, or disability. UT Southwestern Medical Center is an equal opportunity institution.