Parkinson's Disease Patient Symposium
Saturday, December 7, 2013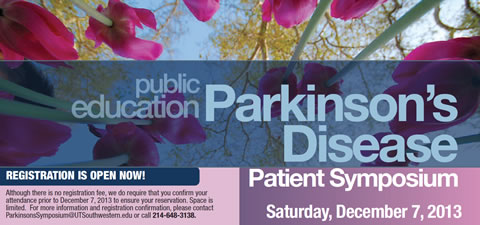 Location
Hilton Anatole
2201 North Stemmons Freeway
Dallas, TX 75207
Course Director
Shilpa Chitnis M.D., Ph.D.
Associate Professor of Neurology and Neurotherapeutics
UT Southwestern Medical Center
Dallas, Texas
Course Faculty
Richard B. Dewey, M.D.
Professor
Department of Neurology and Neurotherapeutics
Pravin Khemani M.D.
Assistant Professor
Department of Neurology and Neurotherapeutics
Padraig O'Suilleabhain, M.D.
Associate Professor
Department of Neurology and Neurotherapeutics
Neepa Patel, M.D.
Assistant Professor
Department of Neurology and Neurotherapeutics
Svjetlana Miocinovic, M.D., Ph.D.
Fellow
Department of Neurology and Neurotherapeutics
Hotel Information
Hotel: Hilton Anatole
Register at hotel
2201 North Stemmons Freeway, Dallas, TX 75207
214-761-7264
Parking
Complimentary parking will not be available. Please be prepared to pay upon exit.
Self-Parking $9
Valet $16
Sponsorship
UT Southwestern Department of Neurology and Neurotherapeutics
Clinical Section of Movement Disorders
Office of Public Education
Cancellation Policy
The Office of Continuing Medical Education reserves the right to limit registration and cancel courses no later than November 29, 2013, should circumstances make it necessary.
Additional Information
For more information, please call the Office of Continuing Medical Education, 214-648-3138, 1-800-688-8678, or email parkinsonssymposium@utsouthwestern.edu