30th Annual Current Issues in Surgical Pathology –
Faculty
Thursday–Saturday, May 1–3, 2014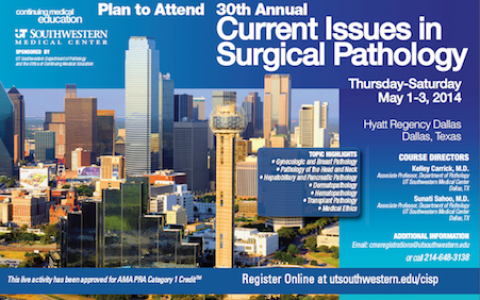 Guest Faculty
Christopher Crum, M.D.
Senior Pathologist
Brigham and Women's Hospital
Department of Pathology
Professor of Pathology, Harvard Medical School
Boston, Mass.
William C. Faquin, M.D., Ph.D.
Director, Head and Neck Pathology
Department of Pathology
Massachusetts General Hospital
Boston, Mass
Neil Theise, M.D., Ph.D.
Attending Pathologist
Departments of Pathology and Medicine
Beth Israel Hospital
New York, N.Y.
UT Southwestern Faculty
Clay Cockerell, M.D.
Clinical Professor, Departments of Dermatology and Pathology
Sara Monaghan, M.D.
Associate Professor, Department of Pathology
Weina Chen, M.D.
Associate Professor, Department of Pathology
Agnes Witkiewicz, M.D.
Associate Professor, Department of Pathology
Sunati Sahoo, M.D.
Associate Professor, Department of Pathology
Jose Torrealba, M.D.
Associate Professor, Department of Pathology
Joel Thibodeaux, M.D.
Assistant Professor, Department of Pathology
Katja Gwin, M.D.
Assistant Professor, Department of Pathology
Caitlin Mauer, M.S., CGC
Cancer Genetics Counselor, Simmons Comprehensive Cancer Center