Fifth William H. Bell Lectureship:
The Quest for Rapid Repositioning of the Jaws and Teeth
Friday–Sunday, April 5–7, 2013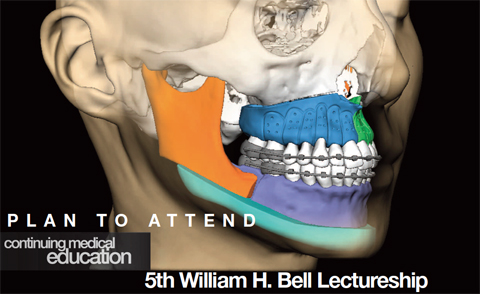 Course Logistics
Overview and Purpose
Many facial deformities and malocclusions remain untreated, or are managed inefficiently over long periods of time contributing to excessive costs, patient discomfort, root resorption, and periodontal injury. Sophisticated advancements in accelerated orthognathic and orthodontic techniques offer surgeons, orthodontists, and other dental/medical specialists the tools to achieve predictable outcomes with convenience, efficiency, and affordability. The paradigm shift in orthognathic surgery and orthodontics is supported by technological achievements that enable practitioners to enhance the quality of life for their patients.

In this dynamic course, healthcare practitioners will obtain the scientific knowledge and strategies to manage all simple and complex craniomaxillofacial and occlusal deformities in early adolescence and adult patients, within a treatment period of six to twelve months, in an outpatient setting. Faculty will highlight computer assisted simulation, planning, and intraoperative navigation as well as tissue engineering and aesthetics. There will be ample time for discussion with faculty and interaction with peers.
Faculty members, who have been the driving force behind these technological developments, will learn hands-on workshops for those who seek skills development. Participants will visit the virtual in-office imaging center, where they will visualize in real-time various functioning technologies. Experienced clinicians and engineers will demonstrate planning protocol to better manage maxillofacial deformity patients. Interactive workshops and workstations also include electronic recording-keeping and cone-beam CT for 3D-based planning.
Target Audience
Oral and maxillofacial surgeons, orthodontists, periodontists, surgical specialists, and scientists.
Attendees will receive a level of privileged health information previously unavailable at a single reliable source. Residents/fellows are encouraged to attend.
This course is intended for practitioners, residents, fellows, and scientists in the fields of Oral and Maxillofacial Surgery, Orthodontists, and Dentistry. Plastic and Reconstructive Surgery, and Otolaryngology–Head and Neck Surgery professionals who desire to learn about and become involved with virtual technology of orthodontic surgery and orthodontic planning and techniques with the goal of significantly improving patient outcomes in convenient in-office setting using techniques that reaccomplished rapidly, efficiently, and affordably in convenient office settings are also welcome.
Calls for Abstracts
Residents and Fellows are welcome to submit abstracts for 10-minute presentations to share their experience with advanced orthognathic and orthodontic technology and techniques. Awards will be given for two of the best presentations.
Needs Assessment
In this golden era of surgical science and technology there is an accelerating and deepening wave of change sweeping through medicine and dentistry. The course directors have selected visionaries, creative thinkers, and pioneers who are moving our specialties to new heights. In this dynamic symposium practitioners will obtain the scientific knowledge, skill, and strategies to manage all orthognathic and orthodontic problems in a shorter time. Technological advances continue to influence and improve outcomes for all patients with dentofacial problems. Two giant problems remain to be adequately addressed:
Excessive costs and length of treatments. A confluence of biological and technological understandings and applications is enhancing the efficiency, affordability, and convenience of these treatment protocols. The ongoing paradigm shift will continue via internet based interdisciplinary treatment planning , three dimensional imaging analysis, computer assisted surgery, and surgically facilitated orthodontics. Surgical simulation coupled with outpatient surgery will bring collaborative efforts of diverse experts together to solve complex facial problems. The RAP phenomenon will continue to mature in finding its place in rapidly repositioning teeth and dento-osseous segments. The utilization and application of surgical and orthodontic procedures will begin to employ simulation methodology (i.e. Da Vinci) to shorten technical learning curves and thus shorten and improve patient care. Attendees of this conference will benefit from evening workshops to apply the knowledge acquired didactically earlier in the day. Speakers will interact with attendees personally to provide a hands on experience.
Computer assisted surgical planning, surgical procedural simulation, medical imaging, surgery first orthodontic techniques, DO and RAP concepts and procedures, orthodontic microsurgery with animal bone simulated surgery, detailed discussion of office based jaw surgery, and CAD/CAM splints will be reviewed. Unfortunately, many dentofacial deformities and malocclusions remain untreated or are managed inefficiently over long periods of time. Sophisticated advancements in orthognathic and orthodontic techniques enable oral and maxillofacial surgeons and orthodontists to achieve efficient and predictable outcomes. This conference will demonstrate the maturity of the paradigm shift in terms of convenience, affordability, and efficiency. We strongly believe this will enhance the quality of life for their patients in a shorter period of time.
Practice Gaps
Practitioners who currently manage orthognathic and occlusal deformities can provide treatment that not only improves outcomes, but does so in a efficient and cost-effective manner. By integrating sophisticated technology, healthcare providers will be able to treat craniomaxillofacial and occlusal deformities in early adolescent and adult patients within a period of six to twelve months, efficiently, affordably, predictably, and conveniently in the outpatient setting.
Transferability of Skills to Clinical Practice and Disclaimer
The purpose of this continuing medical education activity is to provide opportunities for physicians to learn, discuss, observe, and practice the application of new knowledge and skills of models during a faculty guided practicum. This course is not intended to prepare physicians for procedures or techniques in clinical practice. Attendance at this course does not imply clinical competence. Faculty recommends ongoing education and skill practice with experienced, qualified colleagues. It is the healthcares' organization to secure clinical privileges in procedures and techniques taught during the course.
Educational Objectives
Upon completion of this symposium, the participants should be able to link the educational objectives to Core Competencies (Medical Knowledge and Patient Care):
Efficiency: Ability to Accomplish a Job with a Minimum Expenditure of Time, Effort, and Cost
Is Traditional Orthognathic Surgery and Orthodontics Efficient?
Inefficiencies: Inaccessible-Costly-Inconvenient-Lengthy
Outpatient Surgical Center - Cost of Surgery Dramatically Reduced
Biological Foundation for Accelerated Tooth Movements: RAP Phenomena vs. Vascular Phenomena
Interdisciplinary Collaboration in Multiple Remote Sites - City, State, or Country
Virtual Planning for Surgery 1st technique vs. Orthodontics 1st Technique
Computer-Aided Surgical Simulation: Outcome, Pearls, and Pitfalls
Explosion of Technology: Minimally Invasive Techniques-Robotically Assisted Orthodontics and Orthognathic Surgery-Virtual Health Records
Traditional Orthognathic Surgery and Orthodontics vs. Accelerated Treatment
Tissue Engineering To Accelerate Healing and Surgical Treatment
Wing Osteotomy for Correction of 3-D Asymmetry of Inferior Mandibular Border - Gonial Angle and Lower 3rd Vertical Facial Height
Rapid Closure of Extraction Spaces by Dentoalveolar Distraction Osteogenesis
Dentoalveolar Distraction Osteogenesis vs. Corticotomy Orthodontics
Simultaneous Orthodontics and Orthognathic Surgery
Safe Ultrasonic Orthognathic Surgery and Orthodontic Microsurgery
Interactive Hands-On Workshops
Clinical Outcomes of Surgically Facilitated Orthodontics: Recovery Time-Cost-Predictability-Outcomes and Efficiencies
Application of Instruments, Devices and Computer Technology in Integrated Hands-on Bioskills-Workshops
Round Table Discussions: The Future
Accommodations
Sheraton Downtown Dallas
400 North Olive Street
Dallas, TX 75201
Reservations line: 888-627-8191
Ask for the Bell Symposium block or use the group code BEL120.
The group rate is $120 per night plus applicable fees and taxes. March 7, 2013, is the last day to get the group rate. You will need a credit card when calling to reserve your stay.

Cancellation must be received 24 hours in advance of the arrival date, or you will be charged one night's stay. Participants are fully responsible for their own travel and lodging

Parking: Self-parking rate is $12 per car per night inclusive of tax. Valet parking is $29 per day.
Continuing Medical Education Credit Designation
Physicians: UT Southwestern Medical Center designates this live activity for a maximum of 20 AMA PRA Category 1 Credit(s)™. Physicians should only claim credit commensurate with the extent of their participation in the activity.

Attendance at didactic sessions can earn a maximum of 18 credit hours; 20 for didactic & workshop participation.
Continuing Dental Education Credit
Thus continuing education activity has been planned and implemented in accordance with the standards of the ADA Continuing Recognition Program (ADA CERP) through joint efforts between the University of Texas Health Science Center San Antonio Dental School and the Office of Continuing Dental Education.

Attendance at didactic sessions can earn a maximum of 18 credit hours; 20 for didactic and workshop participation.

Participants: Original continuing education verification is subject to audit by many state dental boards. This verification should be retained by the licensee. Faculty members wishing to receive AGD Credit must present their card in person to the Office of Continuing Dental Education (4.204R). Deadline for submission to the Academy is five working days from the completion of the staff meeting date.
Conflict of Interest
It is UT Southwestern's policy that participants in CME activities should be made aware of any affiliation or financial interest that may affect the speaker's presentation(s). Each speaker has completed and signed a conflict of interest statement. The faculty members' relationships will be disclosed in the course syllabus.
Discussion of Off-Label Use
Because this course is meant to educate physicians with what is currently in use and what may be available in the future, there maybe "off-label" use discussed in the presentations. Speakers have been requested to inform the audience when off-label use is being discussed.
Accreditation
UT Southwestern Medical Center is accredited by the Accreditation Council for Continuing Medical Education (ACCME) to provide continuing medical education for physicians.
Sponsored By
UT Southwestern Department of Oral and Maxillofacial Surgery and the Office of Continuing Medical Education in conjunction with the Orthognathic Surgery Education Foundation (OSEF)