Mission & History – 2000 and Beyond
International Pre-Eminence
As medical and scientific opportunities expand and needs grow in the 21st century, UT Southwestern Medical Center continues its rise to the pinnacle of medical institutions worldwide.
In 2000, UT Southwestern acquired the land and facilities of St. Paul University Hospital, and Zale Lipshy University Hospital assumed responsibility for its management. In 2005, the two hospitals were donated to UT Southwestern, which now operates them as the UT Southwestern University Hospitals.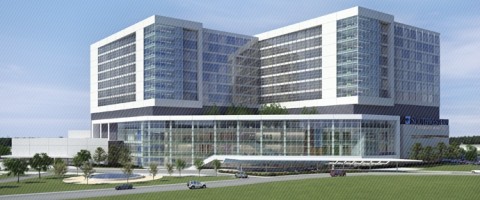 In 2002, after a two-year "quiet phase," UT Southwestern launched a $500 million capital campaign, "Innovations in Medicine." A total of 130 donors contributed $1 million or more to the campaign, with 25 of these donating $5 million or more. Four donors gave $50 million or more to the campaign, including a record-setting $125 million commitment from Annette and Harold C. Simmons and the Harold Simmons Foundation. Other contributors at the $50 million level included the Perot Foundation, the T. Boone Pickens Foundation, and an anonymous donor.
In 2004 Linda Buck, Ph.D., was awarded the Nobel Prize, becoming the first UT Southwestern Graduate School of Biomedical Sciences graduate to receive that honor.
In 2005 UT Southwestern occupied its newest biomedical research tower, the largest in the nation. Legislators approved the largest increase in the institution's state support in over two decades.
In 2006 special federal funding established a Gulf War Syndrome research center. A new outpatient building opened on the West Campus—the first of six clinical towers that will replace the 40-year-old St. Paul University Hospital buildings.
In 2007 philanthropic gifts were at their highest level in the Medical Center's history. State funding continued to increase, surpassing $150 million a year. Space at UT Southwestern totaled more than 8 million square feet; the annual operating budget was $1.3 billion; research grants exceeded $360 million per year; clinical revenues were greater than $600 million; and total endowment funds were valued at more than $1.4 billion.
In 2011 Bruce Beutler, M.D., director of the Center for the Genetics of Host Defense at UT Southwestern, shared the 2011 Nobel Prize in Physiology or Medicine with two other scientists for their immune system investigations. Dr. Beutler was honored for the discovery of receptor proteins that recognize disease-causing agents and activate innate immunity, the first step in the body's immune response.
In 2013 Thomas Südhof, M.D., Adjunct Professor of Neuroscience and former Chair of the Department at UT Southwestern Medical Center, was one of three scientists awarded the 2013 Nobel Prize in Physiology or Medicine for their discoveries of key information about how cellular transport systems work.
UT Southwestern Medical Center now ranks among the top academic medical centers in the world. As a premier educational, clinical, and research institution, UT Southwestern is home to more than 2,000 distinguished scientists, physicians, and allied health professionals, 4,000 outstanding trainees, and more than 16,000 talented and dedicated employees. With more active Nobel Prize winners than any other medical school in the world and over half of the medical members of the National Academy of Sciences and National Academy of Medicine (formerly the Institute of Medicine) in the Southwest region of the United States, UT Southwestern will lead the way in a new era of medical care and discovery in the 21st century.
From its humble beginnings in makeshift quarters to a top-tier medical center of unique distinction, UT Southwestern's remarkable story is only beginning.