Administrative Vice Presidents
Amanda Billings
Vice President for Development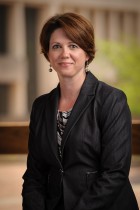 Amanda Billings was named Vice President for Development in November 2014. She leads UT Southwestern Medical Center's philanthropic strategies, which allow the Medical Center to continue to conduct world-class research, educate tomorrow's health care leaders, and deliver quality patient care. Previously, Ms. Billings was Interim Vice President for Development and Director of Development Communications at UT Southwestern, where she was highly involved in the Building the Future of Medicine campaign to support the construction of the new William P. Clements Jr. University Hospital. Before joining UT Southwestern in 2010, Ms. Billings spent 13 years leading communication and marketing efforts for the American Red Cross, both regionally and nationally. She holds a bachelor's degree in political science from Austin College in Sherman, Texas, and has done graduate work in English literature at the University of North Texas.
Ruben E. Esquivel
Vice President for Community and Corporate Relations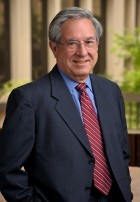 Vice President for Community and Corporate Relations of UT Southwestern Medical Center since 1995, Ruben E. Esquivel began his career as an assembler with AVO International Inc. While working, he attended college at night to earn a degree in electrical engineering from the New Jersey Institute of Technology. His work at AVO culminated in being named President and CEO of the company in 1985 and Vice Chairman in 1994. Mr. Esquivel currently serves on the Board of Directors of Atmos Energy Corporation and is a member of the North Texas District Export Council. He also serves on many local boards, including Dallas-Fort Worth Hospital Council Research and Education Foundation, Dallas County Community College District Foundation, Dallas Zoological Society, The Senior Source, State Fair of Texas, Stemmons Corridor Business Association, Trinity Commons Foundation, and the YMCA of Metropolitan Dallas.
Frank Grassler
Vice President for Technology Development
Frank Grassler joined UT Southwestern Medical Center as Vice President for Technology Development in December 2012. With more than three decades of professional, commercialization, and intellectual property experience in the biopharmaceutical industry, he leads the Medical Center's efforts to promote the commercial development of faculty discoveries that ultimately benefit patients. Mr. Grassler came to UT Southwestern after consulting at Genentech, Inc., a leading biotechnology firm. From 2008 to 2011, he served as Vice President for Intellectual Property at Gilead Sciences, a biopharmaceutical company. Also, he spent 12 years as Vice President of U.S. Intellectual Property for GlaxoSmithKline, a global health care company. Early in his career, he was in private practice as an attorney and worked in patent law for Merck and Co., Inc., as well as G.D. Searle and Company. Mr. Grassler has degrees in pharmacy and law from the University of Colorado, and did additional coursework in mechanical engineering, materials science, and immunology at the University of Colorado, Denver.
Leah A. Hurley
Vice President for Legal Affairs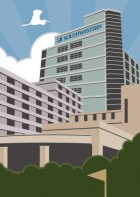 As Vice President for Legal Affairs, Leah A. Hurley is responsible for administration and coordination of legal services at UT Southwestern Medical Center on a diverse range of legal issues such as hospital and physician practice; employment; contracts; public information; animal and human research; medical malpractice and torts; faculty, resident, and student issues; bankruptcy; purchasing; estate; tax; document retention; collection; insurance; and worker's compensation. She also provides interpretation of University and system rules, regulations, policies, and procedures, as well as monitoring of claims and litigation. Ms. Hurley joined the UT Southwestern Administration in 1991 and was named to her present role in 2001. She earned her Juris Doctor from Southern Methodist University, holds an M.A. in Hearing & Speech Science from Vanderbilt University, and earned her undergraduate degree in communicative disorders from the University of Mississippi.
Robin M. Jacoby, Ph.D.
Vice President and Chief of Staff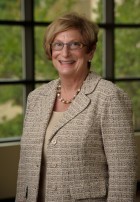 Robin M. Jacoby, Ph.D., serves as a key advisor to and personal representative of UT Southwestern Medical Center President Daniel K. Podolsky, M.D., collaborating with senior leadership and working with faculty and staff to execute key components of strategic priorities for UT Southwestern. Dr. Jacoby brings an extensive background in higher education and health care administration. She was a faculty member and then Assistant to the President at the University of Michigan for many years before moving to Boston to be Vice President of Harvard University's Radcliffe College. Prior to coming to UT Southwestern, she served for 12 years as Chief of Staff for the Chief Executive Officer of Partners HealthCare System, whose founding academic medical centers are teaching hospitals for Harvard Medical School. Dr. Jacoby holds doctoral and master's degrees in history from Harvard University and an undergraduate degree from the University of California, Riverside.
Kirk A. Kirksey
Vice President for Information Resources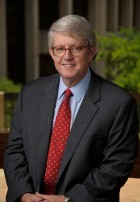 Kirk A. Kirksey, Vice President for Information Resources, created the Information Resources Department at UT Southwestern Medical Center by merging five existing University computing operations. He currently oversees a budget of $56 million and 350 employees. Mr. Kirksey has been instrumental in the design and implementation of UT Southwestern's clinical and financial information systems, the design of its data communications infrastructure, and the design and consolidation of the University's internet functions. Prior to joining UT Southwestern, he held positions with Perot Systems Corporation, the Dallas-based Rubicon Minerals Corporation, and the King Faisal Hospital and Research Center in Riyadh, Saudi Arabia. Mr. Kirksey, who holds a master's degree from the University of Texas at Arlington, is a nationally recognized expert in information technology and currently serves as an adjunct professor at the University of Texas at Dallas' Alliance for Medical Management Education.
Angelica Marin Hill
Vice President for Government Affairs and Policy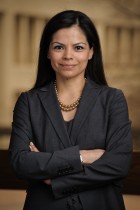 Angelica Marin Hill became Vice President for Government Affairs and Policy in March 2014. Focusing on analytical approaches to legislative issues and strategic communications, her office is responsible for state and federal appropriations that are crucial to UT Southwestern Medical Center's advancement as a world-class research institution. Previously, Ms. Hill was Assistant Vice President for Legislative Budget and Policy at UT Southwestern, where for seven years she was involved in government relations, strategic planning, and legislative analysis. From 2001 to 2004, she served as a senior analyst for the Texas Senate Finance Committee, overseeing appropriations for higher education and health and human services agencies, among others, accounting for more than 70 percent of a $117 billion state budget. She has also worked in private industry, focusing on state and federal policy in health insurance reform. Ms. Hill has an undergraduate degree in history from Harvard University and an M.B.A. from the University of Texas McCombs School of Business.
Steve Moore
Vice President for Communications, Marketing, and Public Affairs
Steve Moore became Vice President for Communications, Marketing, and Public Affairs in October 2014. Mr. Moore is responsible for developing and implementing marketing and communications programs to enhance the international, national, regional, and local reputation of UT Southwestern in education, research, and patient care. He brings more than two decades of experience in marketing and communications to the role, having most recently served as Vice Chancellor for Marketing and Communications for the Texas A&M University System. He has also held marketing and communications positions at the Coca-Cola Company and IMG Stadiums and Arenas, which includes Amon Carter Stadium at Texas Christian University and Wembley National Stadium in England. Mr. Moore received his M.B.A. and a bachelor's degree in marketing from Texas A&M University.
Kimberly Siniscalchi
Vice President, Strategic Initiatives, and UTSW Chief Integration Officer, Southwestern Health Resources
Kimberly A. Siniscalchi, former Assistant Surgeon General, U.S. Air Force, was named Chief Integration Officer for UT Southwestern Medical Center's collaboration with Texas Health Resources in March 2016. She will direct the implementation of the Southwestern Health Resources network. Mrs. Siniscalchi joined UT Southwestern in January 2015 as Vice President for Strategic Initiatives. She worked with the senior leaders to advance organizational strategic goals such as new service line development, organizational partnerships, and other efforts that support the Medical Center's mission. As Assistant Surgeon General in Washington, D.C., she led personnel policy, programs, staffing requirements, and education and training for 45,000 military and civilian personnel, and led Air Force Nursing – 19,000 active duty, reserve, and Air National Guard nursing personnel, supporting 2.6 million beneficiaries globally. Mrs. Siniscalchi received a bachelor's degree in nursing at Duquesne University and a master's degree in nursing at the University of Nebraska Medical Center. She is a Fellow of the American Academy of Nursing.