Administrative Vice Presidents
Frank Grassler
Vice President for Technology Development
Frank Grassler joined UT Southwestern Medical Center as Vice President for Technology Development in December 2012. With more than three decades of professional, commercialization, and intellectual property experience in the biopharmaceutical industry, he leads the Medical Center's efforts to promote the commercial development of faculty discoveries that ultimately benefit patients. Mr. Grassler came to UT Southwestern after consulting at Genentech, Inc., a leading biotechnology firm. From 2008 to 2011, he served as Vice President for Intellectual Property at Gilead Sciences, a biopharmaceutical company. Also, he spent 12 years as Vice President of U.S. Intellectual Property for GlaxoSmithKline, a global health care company. Early in his career, he was in private practice as an attorney and worked in patent law for Merck and Co., Inc., as well as G.D. Searle and Company. Mr. Grassler has degrees in pharmacy and law from the University of Colorado, and did additional coursework in mechanical engineering, materials science, and immunology at the University of Colorado, Denver.
Leah A. Hurley
Vice President for Legal Affairs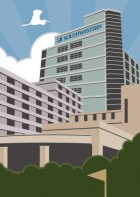 As Vice President for Legal Affairs, Leah A. Hurley is responsible for administration and coordination of legal services at UT Southwestern Medical Center on a diverse range of legal issues such as hospital and physician practice; employment; contracts; public information; animal and human research; medical malpractice and torts; faculty, resident, and student issues; bankruptcy; purchasing; estate; tax; document retention; collection; insurance; and worker's compensation. She also provides interpretation of University and system rules, regulations, policies, and procedures, as well as monitoring of claims and litigation. Ms. Hurley joined the UT Southwestern Administration in 1991 and was named to her present role in 2001. She earned her Juris Doctor from Southern Methodist University, holds an M.A. in Hearing & Speech Science from Vanderbilt University, and earned her undergraduate degree in communicative disorders from the University of Mississippi.
Robin M. Jacoby, Ph.D.
Vice President and Chief of Staff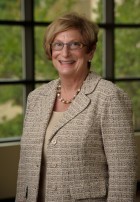 Robin M. Jacoby, Ph.D., serves as a key advisor to and personal representative of UT Southwestern Medical Center President Daniel K. Podolsky, M.D., collaborating with senior leadership and working with faculty and staff to execute key components of strategic priorities for UT Southwestern. Dr. Jacoby brings an extensive background in higher education and health care administration. She was a faculty member and then Assistant to the President at the University of Michigan for many years before moving to Boston to be Vice President of Harvard University's Radcliffe College. Prior to coming to UT Southwestern, she served for 12 years as Chief of Staff for the Chief Executive Officer of Partners HealthCare System, whose founding academic medical centers are teaching hospitals for Harvard Medical School. Dr. Jacoby holds doctoral and master's degrees in history from Harvard University and an undergraduate degree from the University of California, Riverside.
Kimberly Siniscalchi
Vice President, Strategic Initiatives, and UTSW Chief Integration Officer, Southwestern Health Resources
Kimberly A. Siniscalchi, former Assistant Surgeon General, U.S. Air Force, was named Chief Integration Officer for UT Southwestern Medical Center's collaboration with Texas Health Resources in March 2016. She will direct the implementation of the Southwestern Health Resources network. Mrs. Siniscalchi joined UT Southwestern in January 2015 as Vice President for Strategic Initiatives. She worked with the senior leaders to advance organizational strategic goals such as new service line development, organizational partnerships, and other efforts that support the Medical Center's mission. As Assistant Surgeon General in Washington, D.C., she led personnel policy, programs, staffing requirements, and education and training for 45,000 military and civilian personnel, and led Air Force Nursing – 19,000 active duty, reserve, and Air National Guard nursing personnel, supporting 2.6 million beneficiaries globally. Mrs. Siniscalchi received a bachelor's degree in nursing at Duquesne University and a master's degree in nursing at the University of Nebraska Medical Center. She is a Fellow of the American Academy of Nursing.