Administrative Leadership
John Douglas Rutherford, M.D.
Vice President for Clinical Operations and Professor, Department of Internal Medicine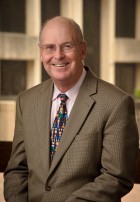 Holder of the:
Jonsson-Rogers Chair in Cardiology
John Douglas Rutherford, M.D., serves as Vice President for Clinical Operations at UT Southwestern Medical Center and holds a Chair in Cardiology. He joined the UT Southwestern faculty as Professor of Medicine in 1993 and received the Distinguished Physician Award in recognition of outstanding individual contributions to Parkland Memorial Hospital in 1995 and the Gifted Educator Award of the American College of Cardiology in 2011. Dr. Rutherford, who earned his medical degree from the University of Otago in his native New Zealand, was the recipient of a traveling Research Fellowship from the New Zealand National Heart Foundation and was a Research Fellow in Medicine at Harvard Medical School. Dr. Rutherford was recruited to the Harvard Faculty in 1978 as a cardiologist and later was appointed co-director of the Samuel A. Levine Cardiac Unit at Brigham and Women's Hospital in Boston.