Going Green
While UT Southwestern Medical Center health care professionals relentlessly work to save lives, the University strives to make better environmental choices to save our planet.
Green Construction
In the last 10 years, UT Southwestern has reduced its energy usage per square foot by nearly 38 percent. We plan a further 30-percent reduction by 2021.
To that end, new construction is designed to meet the highest environmental standards:
The William P. Clements Jr. University Hospital meets the Leadership in Energy and Environmental Design (LEED) certification standards. LEED, created by the U.S. Green Building Council, allows building projects to earn points for satisfying specific criteria such as sustainable sites, water efficiency, energy performance, use of recycled and low-emitting materials, and innovative design.
The research tower on the North Campus was constructed to receive a LEED Silver level by incorporating such conservation measures as a rainwater recapture system and windows that will radiate heat back into the building during the winter, while reflecting infrared heat radiation from the sun in the summer.
For more information about UT Southwestern facilities and construction projects, please visit Facilities Management.
Reducing Our Carbon Footprint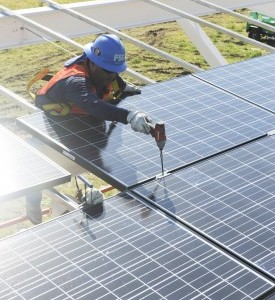 UT Southwestern has implemented several programs to protect natural resources and harness renewable energy.
Our carpool program helps employees lower gasoline usage and reduce automotive pollution.
Plans are underway to convert four gasoline-powered shuttle buses to use compressed natural gas. Eventually, all new UT Southwestern vehicles will run on 100 percent alternative fuels.
UT Southwestern received a $2 million federal grant to place solar panels in the open parking lot at the Bass Center, which will save an estimated 406,281 kilowatt-hours – the equivalent of taking the carbon output of 56 passenger vehicles off the road.
Campus-Wide Recycling
Paper recycling has been in place on campus for more than 10 years. Mixed recycling became a reality with the advancement of single-stream recycling technology and, following a phased implementation, was put into practice campus-wide in 2010. The goal for UT Southwestern's mixed recycling effort is to double the amount of material the campus recycles and to reduce by 10 percent the amount of trash produced by the Medical Center. Last year, we diverted more than 15,000 pounds of plastic through our stericycle sharps recycling initiatives.
The Rookery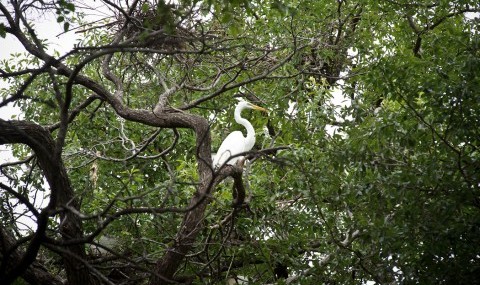 Since 1938, UT Southwestern has been home to a 4-acre wildlife preserve on the South Campus. More than 70 species of birds have been identified, most notably great egrets, cattle egrets, little blue herons, and tri-colored herons. Each year from early spring through summer, the birds return to the rookery to lay eggs and raise their young.
Although the rookery is not protected by the state, it has been maintained through the years as a result of a promise made to Charles Sprague, M.D., the first President of UT Southwestern Medical Center.