Carolyn P. Horchow Women's Health Symposium
Tuesday, March 31, 2015
Carolyn P. Horchow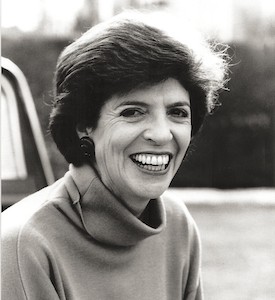 Carolyn P. Horchow was a native of Little Rock, Ark., and a longtime Dallas resident who gave generously to charities throughout her life.
A graduate of Connecticut College, she went on to become a co-founder of The Horchow Collection. She founded this annual symposium in 1999 at UT Southwestern with her friend Patricia M. Patterson.
Carolyn served on the Board of Visitors of UT Southwestern University Hospitals & Clinics and on the Honorary Board of the Modern Art Museum of Fort Worth. She was a volunteer for Meals on Wheels and a member of several charitable organizations, including the Charter 100 of Dallas, Crystal Charity Ball, Dallas Women's Foundation, Planned Parenthood of North Texas, Sweetheart Ball, and Visiting Nurse Association of Texas.
Carolyn will always be remembered for her dignity, thoughtfulness, impeccable taste, and exceptional sense of style.
Overview
"First steps and second chances: From disease prevention to life-renewing treatments"
Schedule
8:30 a.m.–Noon
Includes contintental breakfast
Formal program begins at 9 a.m.
Noon–1 p.m.
Lunch with faculty
Location
T. Boone Pickens Biomedical Building
6001 Forest Park Road
Dallas, TX 75390
Registration
Registration is $75 per person, which includes lunch with faculty. Payment may be made by check or credit card.
Please call 214-648-2344 to register by phone.
Co-Chairs
Marissa R. Anchia
Margo R. Keyes
Letty Ramirez, FACHE, M.B.A., M.A.
Speakers
Kathleen Bell, M.D.
Professor and Chair
Physical Medicine and Rehabilitation
Mark Goldberg, M.D.
Professor and Chair
Department of Neurology and Neurotherapeutics
Sandhya Iyer, M.D.
Assistant Professor
Department of Opthalmology
Amit Khera, M.D.
Associate Professor
Department of Internal Medicine
Eric Olson, Ph.D.
Professor and Chair
Department of Molecular Biology
Physician Advisor
Carol Podolsky, M.D.
Faculty Advisor
Program
| | |
| --- | --- |
| 9:10–-9:15 a.m. | Co-Chairs' Welcome/Opening Remarks |
| 9:15–9:25 a.m. | President's Report – Daniel K. Podolsky, M.D. |
| 9:25–9:30 a.m. | WHS Faculty Advisor – Carol Croft, M.D. |
| 9:30–9:55 a.m. | Heart Breaking and Heart Making: New approaches to regrow the injured heart – Eric Olson, Ph.D. |
| 9:55–10:20 a.m. | Protecting Your Heart: Your family history may be more valuable than you think – Amit Khera, M.D. |
| 10:20–10:45 a.m. | Visionary Brilliance: Advanced treatments for the aging eye – Sandhya Iyer, M.D. |
| 10:45–11 a.m. | Break |
| 11–11:25 a.m. | Stroke of Time: Acute care when every minute counts – Mark Goldberg, M.D. |
| 11:25–11:50 a.m. | Resiliency of Mind and Body: Taking steps to restore function through rehab – Kathleen Bell, M.D. |
| 11:50 a.m.–12 p.m. | Co-Chairs' Closing Remarks |
| 12–1 p.m. | Lunch with Faculty |