Carolyn P. Horchow
Women's Health Symposium
Tuesday, March 28, 2017
Schedule
8:30 a.m.–12:05 p.m.
Includes continental breakfast
Formal program begins promptly at 9 a.m.
12:05–1 p.m.
Lunch with faculty
Location
T. Boone Pickens Biomedical Building
6001 Forest Park Road
Dallas, TX 75390
Registration
Registration is $75 per person, which includes lunch with faculty. Payment may be made by check or credit card.
Please call 214-648-2344 to register by phone.
Co-Chairs
Patty Huffines
Sydney Huffines
Speakers
Carlos Bagley, M.D.
Associate Professor
Department of Neurological Surgery
My Aching Back: Solving the Back Pain Puzzle
Deborah Friedman, M.D., M.P.H.
Professor
Department of Neurology & Neurotherapeutics
Migraine: Arresting the Time Thief
Salahuddin Kazi, M.D.
Internal Medicine Vice Chair of Education
Professor of Internal Medicine
Arthritis: Understanding What Your Joints Are Saying
Steven Kliewer, Ph.D.
Professor
Department of Molecular Biology
Crushing the Cravings: Drawing Science Into the Battle Against Addictive Behaviors
Stephanie Savory, M.D.
Assistant Professor
Department of Dermatology
Skin Care Confidential: Truths and Myths Revealed
Physician Advisor
Carol Podolsky, M.D.
Faculty Advisor
Program
| | |
| --- | --- |
| 8:30–9 a.m. | Continental Breakfast |
| 9–9:05 a.m. | Co-Chairs' Welcome – Margot Perot and Carolyn Rathjen |
| 9:05–9:10 a.m. | Dean's Report – Greg Fitz, M.D. |
| 9:10–9:35 a.m. | One Woman's Successful Journey – Helen H. Hobbs ,M.D. |
| 9:35–9:40 a.m. | Faculty Advisor's Remarks – Carol L. Croft, M.D. |
| 9:40–10:05 a.m. | A Cancer in the Family: Taking control of your genetic inheritance – Theodora Ross M.D., Ph.D. |
| 10:05–10:30 a.m. | Distress Signals: Recognizing depression, anxiety, and grief – Madhukar Trivedi, M.D. |
| 10:30–10:55 a.m. | Destination ER: When to hit the road and what to expect – Deborah Diercks, M.D. |
| 10:55–11:10 a.m. | Break |
| 11:10–12 p.m. | Catching some ZZZs; Stopping the Sneeze; Speaking with Ease: Novel approaches to ENT disorders – Teresa Chan-Leveno, M.D., Lesley Childs, M.D., Bradley Marple, M.D. |
| 12–12:05 p.m. | Co-Chairs' Closing Remarks |
| 12:05–1 p.m. | Lunch with faculty |
2017 Photo Gallery and Videos
Event Photos
To view, tag, or share pictures from the 2017 Women's Health Symposium, visit our Facebook photo album.
Carolyn P. Horchow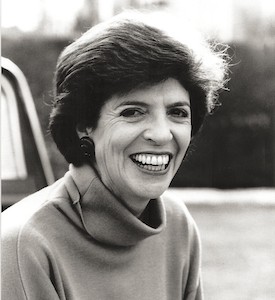 Carolyn P. Horchow was a native of Little Rock, Ark., and a longtime Dallas resident who gave generously to charities throughout her life.
A graduate of Connecticut College, she went on to become a co-founder of The Horchow Collection. She founded this annual symposium in 1999 at UT Southwestern with her friend Patricia M. Patterson.
Carolyn served on the Board of Visitors of UT Southwestern University Hospitals & Clinics and on the Honorary Board of the Modern Art Museum of Fort Worth. She was a volunteer for Meals on Wheels and a member of several charitable organizations, including the Charter 100 of Dallas, Crystal Charity Ball, Dallas Women's Foundation, Planned Parenthood of North Texas, Sweetheart Ball, and Visiting Nurse Association of Texas.
Carolyn will always be remembered for her dignity, thoughtfulness, impeccable taste, and exceptional sense of style.