Daniel Stroud Scholarship Fund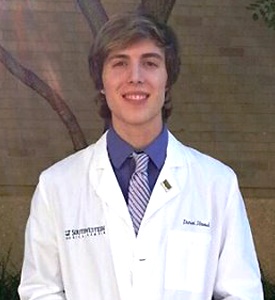 Daniel Stroud was an incredible, caring, and bright member of the UT Southwestern Medical School Class of 2017. He always strove to excel in everything that he did and pushed himself to surmount all the challenges before him, including fighting his own medical illnesses. Through that, though, he remained very humble and was always willing to lend a hand to anyone who asked.
Daniel graduated from Texas Tech University summa cum laude with a B.S. in Chemistry before coming to attend medical school at UT Southwestern. He remained true to his fundamentals as a chemist and, in the summer between the first and second years of medical school, used his expertise in chemistry to help synthesize molecules for his project: the "Synthesis and Comparative Study of a Library of Small Molecules Capable of Disrupting H1F alpha Dimerization." His project was acknowledged in the 53rd Annual Medical Student Research Forum where it was recognized as one of the 10 top presentations.
With Daniel's brilliance and kind heart, he undoubtedly would have touched countless lives as a doctor and had the potential to further medical research. It was a great misfortune that despite his talents and enthusiasm for patient care, he tragically passed away shortly before beginning his third year of medical school. Though Daniel is unable to personally touch the lives of patients and further the frontier of medicine, the Daniel Stroud Scholarship Fund is being established to provide opportunities for future medical students who share Daniel's compassion for patients and interest in medical research. It seems only fitting that Daniel's legacy should live on through generations of doctors to come. We thank you for your kind attention and look forward to your support.
If you wish to donate to help establish the Daniel Stroud Scholarship Fund, please fill out the form below and continue to the donation portal. Within the donation portal, please make sure to check the "specific use" box under Donation Information, and write in Daniel Stroud Scholarship Fund.