Naming Opportunities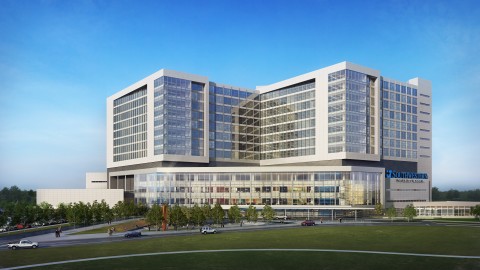 The goal of UT Southwestern's Building the Future of Medicine capital campaign was to raise at least $200 million in private funds to complete construction of the new William P. Clements Jr. University Hospital. We are very grateful that to date, $201 million has been raised. However, the generosity of local community members, grateful patients and their families, corporations, and foundations continues to be critical for supporting new and enhanced programs within the hospital.
Through a gift to UT Southwestern, you will help:
Support a facility that fully integrates research and clinical activities to quickly bring scientific advances to the bedside
Create a healing environment for patients and their families
Recruit and retain world-class clinicians
Educate the next generation of physicians.
There are a variety of giving opportunities to support William P. Clements Jr. University Hospital, from major gifts that offer attractive naming opportunities within the hospital to tribute gifts that memorialize or honor a friend or loved one.
Please contact UT Southwestern's Office of Development at 214-648-2344 to discuss naming opportunities for the new hospital.
Endowed Funds
Endowed funds are invested to generate annual income in perpetuity for the purpose specified by the donor. Endowment funds designated for the benefit of UT Southwestern are managed by the University of Texas Investment Management Company (UTIMCO), Southwestern Medical Foundation, and St. Paul Medical Foundation at the donor's discretion.
Endowed funds forever connect the name of the donor—or someone the donor wishes to honor—with UT Southwestern, as well as with a specific cause they wish to support. Examples of support for UT Southwestern may come in a variety of forms including, but not limited to, named academic positions, funds, scholarships, centers, and buildings.