David Marshall Cancer Fund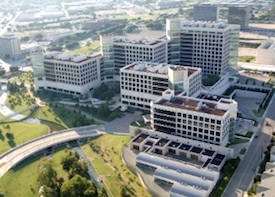 After a long battle with cancer, David Marshall felt compelled to leave a portion of his estate to UT Southwestern Medical Center in appreciation of the exceptional care he received. His bequest totaling more than $580,000 will be used to support cancer research. Prior to Mr. Marshall's passing he made two gifts of $50,000 each in honor of his physician, Dr. John Bagwell, to support prostate and bone cancer research.
Born in 1928, Mr. Marshall grew up in East Dallas where he attended Woodrow Wilson High School. He started college at Southern Methodist University; however, after a death in the family he left to manage the family farms in Seagoville and Irving. While managing the farms, Mr. Marshall also went to night school and received his degree in 1965.
"Mr. Marshall was a unique person in that he was universally liked by people of all strata of society," said Jack Russell, a longtime friend and executor of Mr. Marshall's estate. "He had the capacity to make a poor man and a rich man feel needed equally." Their friendship spanned over 50 years, after meeting while taking a course in international finance at SMU.
After graduating from college, Mr. Marshall worked for the State of Texas Highway Department for 20 years and went on to become an independent fee appraiser. "Mr. Marshall was everybody's and every attorney's friend," said Jo Ann E. Combs, Mr. Marshall's attorney and friend. "He was a very kind and generous man who always offered a helping hand."
In addition to his work with the Highway Department, Mr. Marshall always had an avid interest in farming and livestock. He and Mr. Russell bred and showed dogs, while becoming very involved in the American Kennel Club. "Mr. Marshall was a very intelligent man who always showed tremendous humility and had a rewarding sense of humor. I am lucky to have been his friend," said Mr. Russell.