Donor Stories
Behind every gift to UT Southwestern Medical Center is a story. These stories inspire us to search for new lifesaving treatments, deliver personalized care to our patients, and provide superb training to the researchers, physicians, and health care providers who are the future of medicine. Read more about the generous supporters who make our work possible.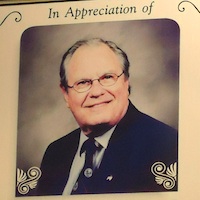 A bequest totaling more than $200,000 from Myron Gayle Glidewell, M.D., Class of 1962, is being used to support resident educational activities in the Department of Orthopaedic Surgery. As an esteemed alumnus of UT Southwestern Medical School, Dr. Glidewell wanted to show his gratitude to the institution by leaving this gift from his estate.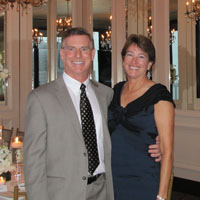 Motivated by a life-saving experience at UT Southwestern Medical Center, Lynn Keefe and her husband Ken have decided to leave a significant portion of their estate to Southwestern Medical Foundation for medical research at UT Southwestern. "I am sharing our story because we hope to have an impact on others. I want our story to encourage others to think about those institutions that have positively affected their lives and consider remembering them in their estate plan."
After a long battle with cancer, Mr. David Marshall felt compelled to leave a portion of his estate to UT Southwestern Medical Center in appreciation of the exceptional care he received. His bequest totaling more than $580,000 will be used to support cancer research. Prior to Mr. Marshall's passing he made two gifts of $50,000 each in honor of his physician, Dr. John Bagwell, to support prostate and bone cancer research.
After being diagnosed with melanoma, Jennifer Lemmo immediately recognized the importance of raising awareness for the most dangerous form of skin cancer. Through Miles Against Melanoma (MAM), Mrs. Lemmo brought her community together to raise $18,000 to support melanoma research at UT Southwestern Medical Center. MAM is a national organization with a mission to provide funding for awareness, education, advocacy, and research for skin cancer, melanoma, and cancers related to melanoma.
Robert Bachoo, M.D., Ph.D., Assistant Professor of Neurology and Neurotherapeutics, received $10,000 from the Nick Gonzales Foundation to support brain cancer research. The mission of the Foundation is to increase awareness of the early signs of brain tumors and raise critical funds for specific research projects.
Jim Hatcher made a promise to his wife, Joanie, in the final months of her battle with breast cancer. He pledged to carry on her legacy by helping other breast cancer patients and their families. That promise led to him establish the Jim and Joanie Hatcher Charitable Trust, which hosts an annual event for breast cancer patients and their families. His support has expanded to other areas for breast cancer patients and families as well.
When members of the Lakeside Aquatic Club wanted to give back to their community, they hosted two pink out-themed swimming events to raise money for breast cancer research. Raising nearly $6,000 through the two swimming events, they chose UT Southwestern Medical Center as the recipient of the funds because of the outstanding care one of the committee members received when she was treated for breast cancer at UT Southwestern.
James Amatruda, M.D., Ph.D., Assistant Professor of Pediatrics, has received generous support from Curing Kids' Cancer and Kevin's Ewing's Sarcoma Fund for his research on Ewing's sarcoma, a form of bone cancer found in children and adolescents. Dr. Amatruda is using an innovative zebrafish genetic system to understand how the Ewing's Sarcoma protein EWS-FLI1 turns a normal cell into a cancer cell.
Young Texans Against Cancer (YTAC) awarded a $25,000 grant to UT Southwestern Medical Center to support Roshni Rao, M.D.'s, research to assess the personalized genetic history of patients with triple negative breast cancer. Dr. Rao, Assistant Professor of Surgery, is a recognized leader in breast cancer care and research.
Since its creation in 2004 the Michael H. Winter Fund for Stroke Rehabilitation Research has significantly advanced stroke and traumatic brain injury (TBI) rehabilitation programs at UT Southwestern. Established in memory of Michael Winter by his wife, Lori, the fund has most recently been instrumental in helping UT Southwestern secure a highly competitive National Institute of Child Health and Human Development grant.
Herbert S. Salomon, M.D.'s, career as a physician was cut short after losing a 10-year battle with cancer in 1971, just four years after graduating from UT Southwestern Medical School. But according to his brother, Stephen, Dr. Salomon's story should not focus on the tragedy of his death, but rather on his incredible perseverance to fulfill his lifelong dream of becoming a doctor.