Bequest from UT Southwestern Alumnus Supports Orthopaedic Surgery Residency Program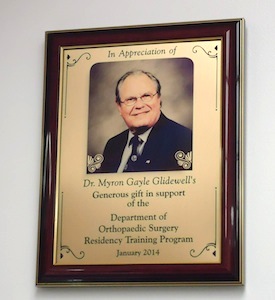 A bequest totaling more than $200,000 from Myron Gayle Glidewell, M.D., Class of 1962, is being used to support resident educational activities in the Department of Orthopaedic Surgery. As an esteemed alumnus of UT Southwestern Medical School, Dr. Glidewell wanted to show his gratitude to the institution by leaving this gift from his estate.
Born in 1932 in Amarillo, Texas, Dr. Glidewell moved to Wichita Falls when he was six years old and later graduated from Wichita Falls High School. After college and medical school, Dr. Glidewell completed a rigorous residency training program at UT Southwestern, which marked the beginning of a long and distinguished career. As a young physician, Dr. Glidewell spent time in Ireland working alongside an orthopaedic surgeon who was an innovator in knee arthroscopy. When Dr. Glidewell returned to Texas, he introduced the procedure to his practice and became a pioneer in the orthopaedic surgery community.
In addition to practicing medicine, Dr. Glidewell enjoyed motorcycle trips in New Mexico and hiking. He was also an exceptional craftsman. "Dr. Glidewell was a unique person with a quick mind and perspective. As a result, he was attracted to a broad range of interests and pursued excellence in orthopaedic practice, as well as his many activities away from medicine," said longtime friend and colleague, Robert Browning, M.D. "He was always a dedicated alumnus and continued to maintain a relationship with UT Southwestern and the faculty, even after his retirement. Gayle will be missed."
Robert Welch, D.V.M., Ph.D., Director of Musculoskeletal Sciences in the Department of Orthopaedic Surgery, recognized a need for equipment in the musculoskeletal research lab to expand residents' capabilities to gain more hands-on experience. Upon his recommendation, the Department decided to use the gift to purchase a mechanical testing system that allows residents to understand real-life conditions and improves product quality in implantable orthopaedic devices.
"The new equipment will be instrumental in teaching our residents about the fundamentals of musculoskeletal research," said Adam Starr, M.D., Professor and Interim Chair, Department of Orthopaedic Surgery. "We also foresee a chance to use the equipment to collaborate with students in the Biomedical Engineering Program."
"We are deeply grateful for the bequest Dr. Glidewell left us and for the faith he had in the work being done at UT Southwestern to train young doctors," said Dr. Daniel K. Podolsky, President of UT Southwestern. "The generosity of friends like Dr. Glidewell helps UT Southwestern provide superb education and training to the students, residents, and fellows who are following in his footsteps and represent the physicians of tomorrow."