News & Events
Students win first place in Emory University competition
A team of students from UT Southwestern, UT Dallas, and UT Arlington won first place in the Global Health competition at the Rollins School of Public Health at Emory University the weekend of March 29-30. The teams were asked to redefine the World Health Organization for the 21st century. This was the first year UTSW participated in the annual competition. The UTSW presentation, entitled "Leaders Enabling Efficient Approaches through Partners and Priorities (L.E.A.P.)," can be viewed online. (Full presentation starts around 1:55:00.)
UTSW competitors included Luwam Ghidei, a third-year medical student, plus second-year medical students Kajal Mehta and John Squiers. UT Dallas students Jane Slusher and Rohit Tyagi, who are in the M.B.A. Program, and UTA student J. Michael Stringer also participated.
Journal features article co-authored by Dr. Gumbo
Tawanda Gumbo, M.D., Associate Professor of Internal Medicine, was second author of an article featured in the March 24, 2014, edition of The Lancet. The report, "Global controls of tuberculosis: from extensively drug-resistant to untreatable tuberculosis," is part of a series that marks World Tuberculosis Day.
Student team wins grant for obstetric invention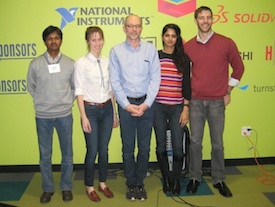 The Safe-C Team (currently operating as "Pneumom"), a group of M.D./Ph.D. students at UT Southwestern, was recently awarded a Stage 1 E-Team grant from the National Collegiate Inventors and Innovators Alliance (NCIIA) to support ongoing research and development of their obstetric device, the Safe-C Pump.
The Safe-C Pump, a novel means for fetal head disimpaction, promises better maternal and fetal outcomes by safely and quickly enabling cesarean delivery of impacted neonates. The Safe-C team consists of second-year medical students Anu Atluru, Elizabeth Carstens, Adam Harris, and Dan Walk, with Ph.D. candidate Sandeep Ganji and clinical mentorship from Robin Rosen, M.D., Associate Professor in Obstetrics and Gynecology.
The NCIIA E-Team (Entrepreneurship Team) Program supports student start-ups of socially beneficial innovations and businesses with early-stage funding, help with business strategy development, mentoring, and investment.
In 2013, the Safe-C team won the Second Annual Student Innovation Symposium, hosted by the Innovating Healthcare Solutions (IHS) Program.
The IHS elective is a yearlong experiential program through which medical and graduate students at UT Southwestern and other regional institutions acquire the skills and mindset required to accurately assess problems and develop feasible solutions in a team-based environment. With the aid of course facilitators and faculty advisors, students tackle real-world healthcare challenges locally and abroad by designing products or implementing community-based initiatives. The Safe-C team was formed through IHS.
The Safe-C Team will be presenting the Safe-C Pump at the annual NCIIA Open Conference in San Jose, Calif., in March 2014.
Overexpressed protein the culprit in certain thyroid cancers
A specific protein once thought to exist only in the brain may play a crucial role in a deadly form of thyroid cancer, as well as other cancers, and provide a fresh target for researchers seeking ways to stop its progression. That's according to a study conducted by Fiemu Nwariaku, M.D., Professor of Surgery and Associate Dean for Global Health.
Dr. Gumbo Interviewed About Drug-Resistant TB
Tawanda Gumbo, M.D., was interviewed by The Scientist about research on mutations that confer drug resistance in Mycobacterium tuberculosis. The research, led by teams in Massachusetts and China, shows that drug resistance is more complex than originally thought.
Student Launches Hygiene Curriculum for Indian Children
Sindhu Sudanagunta, a second-year medical student at UT Southwestern, recently returned from an eight-week summer academic project at the Sphoorti Foundation, an orphanage in Hyderabad, India. While participating in the Innovative Healthcare Solutions elective during her first year, Sindhu developed the idea to implement a simple, yet interactive basic hygiene curriculum for the children at the Sphoorti Foundation.
Through her participation in the M.D. with Distinction in Global Health program, Sindhu received financial support as well as mentorship and guidance from knowledgeable faculty members. Sindhu now plans to learn about production using locally available, low-cost materials to develop a sustainable supply of soap for environments with scarce water supplies. She intends to return to Sphoorti with this new knowledge.
Check out the YouTube video she shot as part of the campaign.
Reflections on Health Care in Cuba 2013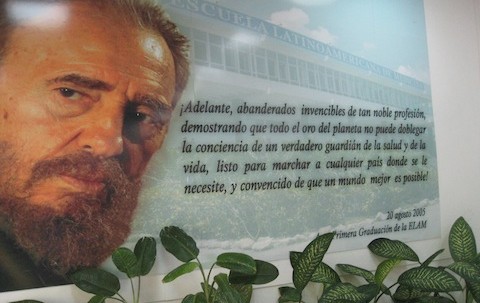 Alex Lyda, a senior communications specialist in UT Southwestern Medical Center's University News Bureau, recently visited Cuba as part of a medical tour. The spirit of resourcefulness and sharing among Cubans stuck with him.
Student wins 1st Global Health Award at Medical Student Research Forum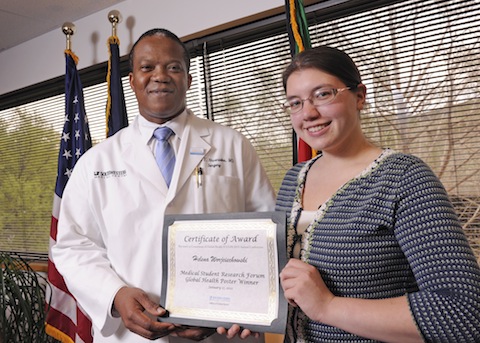 Helena Wojciechowski, MS2, won the first Global Health Award presented by the Medical Student Research Forum. Ms. Wojciechowski was recognized for "Community Outreach and Education Programs Are Effective at Improving Hepatitis B Knowledge Among Asian/Pacific Islander Adults." Her mentor was Amit Singal, M.D., Assistant Professor of Internal Medicine.
The Global Health Award at the Medical Student Research Forum is an expense-paid trip to the annual Consortium of Universities for Global Health (CUGH) Conference in Washington, D.C., with the opportunity to present their work in the student poster presentation. CUGH's mission is to help build interdisciplinary collaborations and facilitate the sharing of knowledge to address global health challenges.
Conference examines bridging the digital health divide
A global health conference hosted by UT Southwestern's Office of Global Health looked at ways technology can improve health care in a global setting. One way to do that is with cell phones. Rapidly growing cell phone usage in developing countries gives health care providers greater opportunities to reach remote populations through telemedicine and to monitor and disease outbreaks.
Panelists also discussed the use of bioengineered crops that can produce material fit for medical applications and the use of electronic Trauma Health Records in low-resource environments.
OGH Faculty Members In the News
Doctor-monitored pill-taking not cost-effective against tuberculosis
Tawanda Gumbo, M.D., Associate Professor of Internal Medicine, was interviewed by Reuters Health about a meta-study that showed supervising tuberculosis patients as they take medication does not improve several measures of effectiveness. Read More
Research suggests new way to ensure effectiveness of TB treatment
A UT Southwestern Medical Center study using a sophisticated "glass mouse" research model has found that multidrug-resistant tuberculosis (TB) is more likely caused in patients by speedy drug metabolism rather than inconsistent doses, as is widely believed. Dr. Gumbo led the study. Read More
Update (March 1, 2012): Dr. Gumbo was interviewed about this paper and his research by the Working Group on New TB Drugs, part of the World Health Organization's Stop TB Partnership. Listen to the podcast
Update (June 5, 2012): Dr. Gumbo was interviewed by Critical Path to TB Drug Initiatives about the hollow fiber model and explained why it is so promising for TB research. Read the Q&A